Comedy
I bloody love comedy. I always have and always will. I first started performing comedy while I was at university, and a few years later, after moving to London, I started to take it really seriously. I started gigging regularly in 2018, started doing paid gigs in 2020, and debuted a WIP of my solo show, Ted Hill: All The Presidents Man, in 2019. Due to old Colin Covid I've had to push that debut show back to 2022, but it's going to be brilliant.
I've done over 150 gigs: 5's 10's and 20's, paid and unpaid, all around London and the South East, with lots of gigs in Oxford, Cambridge, London & Brighton.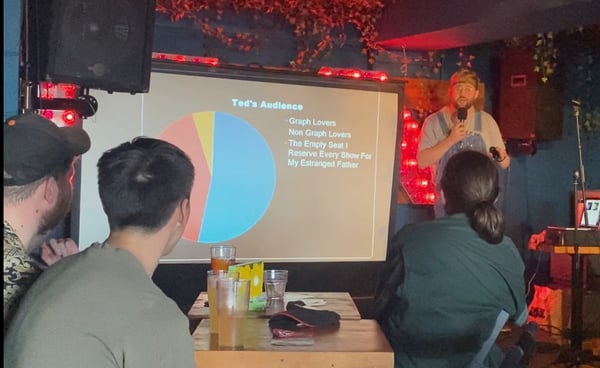 What Kind Of Comedian Am I?
Energetic
I throw maximum energy into my intense performance style. Deadpan and low energy I am certainly not.
Geeky
I have a lot of niche interests, and would much rather talk about the time Big Bird nearly went to space than jokes about tinder or self checkout machines
Multimedia
I use flip charts, PowerPoints, sound effects, videos, characters and more to make my comedy unique and interesting. I have ADHD and I make the kind of comedy that I'd like: lots of visual aids so its hard not to pay attention
Silly
At heart I am still a child; my comedy is fun, and it all about taking complex and detailed things and talking about them in a elaborately childish way. I take silliness very seriously.
After restarting stand-up in late 2019 I discovered my secret comedy passion: high intensity, full throttle, max energy stupidity while talking about nominally educational topics. Like school, but incredibly funny and much more chaotic.
In 2019, while dabbling in niche science and history themed comedy, I discovered using a powerpoint for comedy, and in 2021 I started using a flip-chart, making me suitable for the analogue world of London's low tech comedy circuit.
As of Late 2021 I've recently done paid 5's 10's, 15s and MCing at Monkey Barrel Comedy, Dulwich Hamlet Comedy, Whats The Deal Comedy, Vauxhall Comedy Club, Jericho Comedy, Knock2Bag @ MOTH Club, Quantum Leopard, and more
"A highly original and utterly hilarious presence on stage"
Dulwich Hamlet Comedy
"hugely talented"
EdFringe Review
"incredibly funny"
The Tab
"As punctual as he is hilarious, Ted had our 3 audience members in stitches. Incredibly funny and disarmingly likeable."
What's The Deal Comedy